Phlebectomy Data Collection
Participate in the AVLS Phlebectomy Study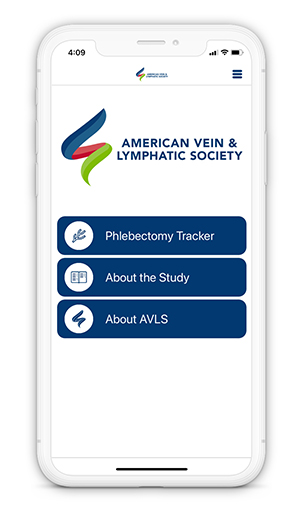 The AVLS Phlebectomy Task Force needs your help in the study of ambulatory phlebectomy.
Why:
Data is needed to develop clinical Guidelines for procedural Documentation and more appropriate reimbursement.
What:
Submit short procedural information via your smart phone - less than two minutes for the entire process.
How:
Download the free AVLS Phlebectomy Mobile App from the Apple or Google Play stores. The simple and intuitive interface will quickly guide you through inputting each procedure.
Ambulatory phlebectomy is an important option in the treatment of patients with venous disease. However, there is concern that present methods of documentation and reimbursement, based only on the number of phlebectomy sites, do not reflect either the pathophysiology or the work involved.
"Ideally, we would like to have as many AVLS members as we can submitting data through the PRO Registry," notes Dr. John Blebea. "However, we realize that is not always possible. That is why we are hopeful that AVLS members who perform phlebectomies, regardless of their participation in the Registry, will submit their phlebectomy data through this app."
All data collected will be anonymized. After downloading the app, please give it a five-star review to help others find it in the app store!
If you have any questions please reach out to Michael Thompson, AVLS Director of Research, at [email protected].