CMS Final Rule for 2020: Payment Rates for 2020 and New E&M Codes Coming in 2021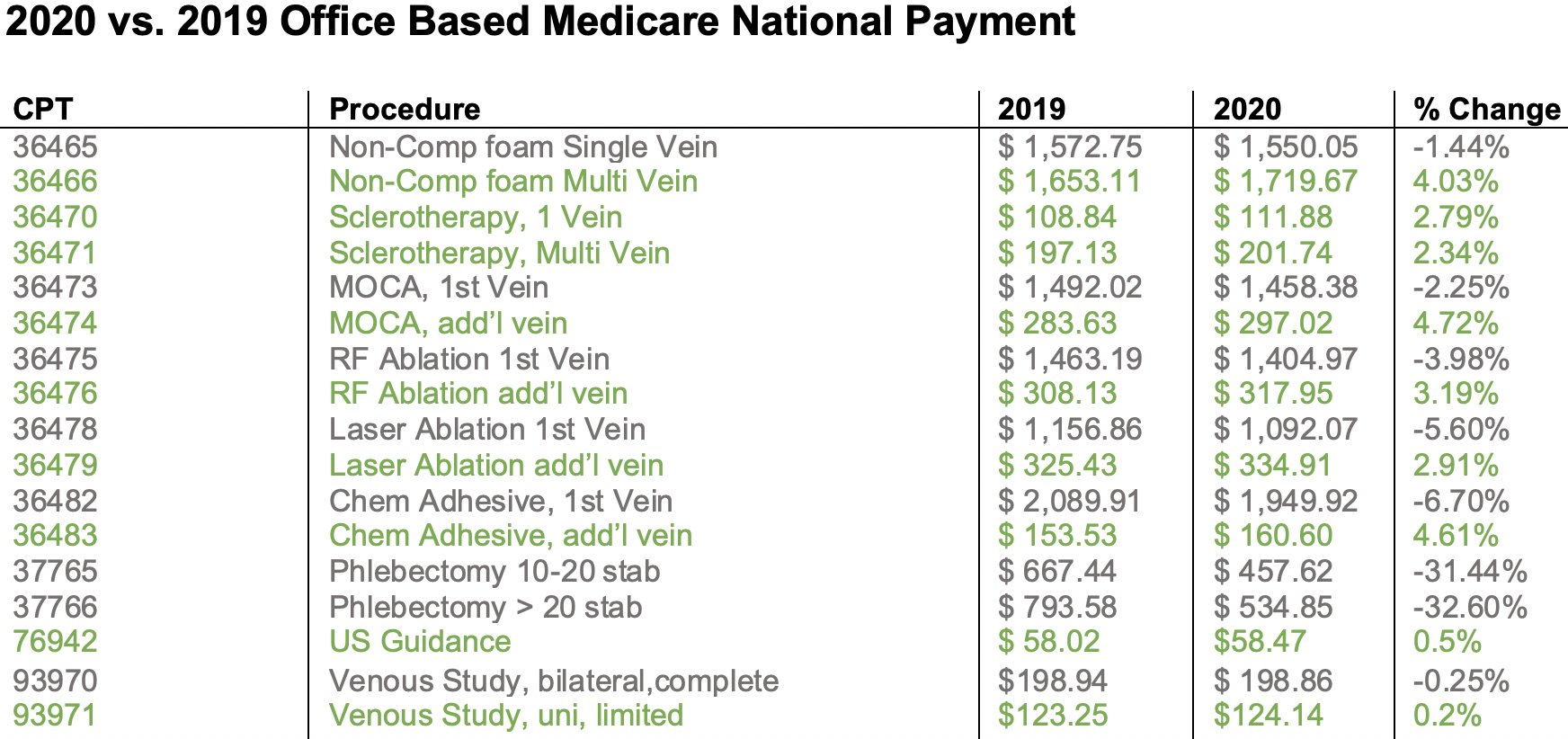 On November 1, CMS released its 2,475-page final rule for the 2020 Quality Payment Program (QPP) and the Physician Fee Schedule (PFS). The Final Rule encapsulates comments CMS received in response to their Proposed Rule, which came out in late July. This document serves as Medicare's road map for Part B services for the coming calendar year. The Final Rule is always complex, but among other things, the 2020 rule updates several provisions of the Merit-based Incentive Payment System, (MIPS) and implements changes to payments for evaluation and management (E&M) services under the PFS. The Final Rule sets the 2020 Medicare conversation factor at a slight bump, to $36.09 for 2020, up from $36.04 in 2019.
The Final Rule also enumerates payment rates for 2020, based on the CMS algorithm of RVUs, malpractice, and practice expense. The attached table shows a thumbnail overview of the most common vein codes, and their 2020 office based national average payment. For 2020, CMS is continuing its phased in implementation of supply costs which they have identified as not accurate, which impacts several venous codes.
As previously reported in Advocacy Insider, based on the April 2018 RUC review, the sharp cut to the two phlebectomy codes is the most impactful to AVLS members. CMS also moved the global period for these two codes from 90 days to 10 days.
In late September, AVLS commented to CMS that implementing these cuts in one year would be disruptive, and asked in the future to be able to provide data from our PRO registry show evidence of differing work times. "Because of the process of how payment is determined, overturning the recommendation of the RUC panel, which is based on actual physician surveys, was never really on the table," commented AVLS Health Policy Chair, Stephen Daugherty, MD, FAVLS, RVT. "Long term, reshaping the CPT codes for phlebectomy so that providers can document doing less than 10 and more than 30 incisions is where we need to go, but it will take a few years to get there" added Dr. Daugherty.
AVLS members should note that a significant aspect of the rule is a series of changes to the billing and reimbursement parameters for E&M services that will take effect in 2021. These new E&M revisions have been subject to much deliberations between CMS, AMA and the medical community. These pending changes include:
Eliminating the history and physical as elements for determining the appropriate code level
Allowing physicians to choose whether to document based on Medical Decision Making (MDM) or Total Time
The deletion of code 99201
The creation of a shorter prolonged services code