Featured Member of the Month (Jul. 2020): Catherine Burdge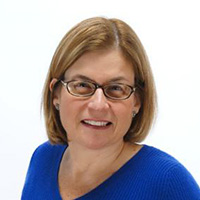 Catherine Burdge, APRN is a nurse practitioner who works at Connecticut Image Guided Surgery, PC in Fairfield, CT with Dietrich Schultze, MD and Gastone Crea, MD. She graduated from Wellesley College and received her master's degree in nursing, as well as a post master's degree in nursing as an acute care nurse practitioner at Yale University School of Nursing.
Ms. Burdge has been a member of the American Vein & Lymphatic Society for 15 years and is a member of the Society's Nursing Section. She was past Congress program chair for the section, as well as section chair. Her practice concentrates on the comprehensive treatment of varicose veins and includes a focus on sclerotherapy treatment. She is also center manager for Connecticut Image Guided Surgery, PC and has a special interest in practice management and marketing.
How and why did you start practicing in the field of vein care?
I had the honor of working with Melvin Rosenblatt, MD for 26 years as his nurse practitioner and I had the privilege of participating in the care of our patients and learning from him every day.
When you are not at work, how do you spend your time?
My husband, Charlie, and I have 2 beautiful children who are pursuing their careers. My favorite moments are when we are all together. Charlie and I have owned horses most of our married life. Right now, we have 2 sweet rescue horses living with us on our property, as well as our dear rescue cat. And we enjoy getting together with our friends.
How long have you been a member of the AVLS and why did you decide to join?
I have been a member of AVLS for 15 years. I went to my first ACP Congress in San Francisco in 2005. There I met my 2 mentors, Terri Harper, NP and Terri Morrison, RN. They encouraged me to join ACP and it was one of the best things I have ever done professionally.
In what ways has the AVLS helped you as a nurse?
AVLS has enriched my practice in so many ways. The members of the AVLS are the nicest people. They want you to succeed in your practice and are there to help. I have made many friends both personally and professionally to call on if I have a question about a patient or another aspect of my practice. Throughout the years, the regional meetings and the Annual Congress have provided a wealth of knowledge that has enhanced my practice. And participating in meeting faculty as well as on AVLS committees has matured me professionally. The Society has an incredible network of international experts that are always available to help other members.
Any advice for nurses new to the field?
Become a member of AVLS! And become involved in the Society. You will meet so many people who will support you in your practice, and you will make lifelong friends.
What resources does the AVLS provide that will benefit them?
There are so many resources available to members. The members are amazing resources who are willing to share their expertise, as is the adminstrative team at AVLS that makes it all happen for the members. They are very available to members to answer any questions and to direct members to resources specific to their needs. The regional conferences, the Annual Congress, programs online, and virtual classes all come together to provide a comprehensive education for phlebologists and lymphedema specialists. I am grateful that leadership has made so much information available during the COVID-19 pandemic to help our practices during this difficult time. It is a comfort to know that the Society adminstration and members are always there for us.