Featured Member of the Month (Mar. 2020): Dr. Carl Fastabend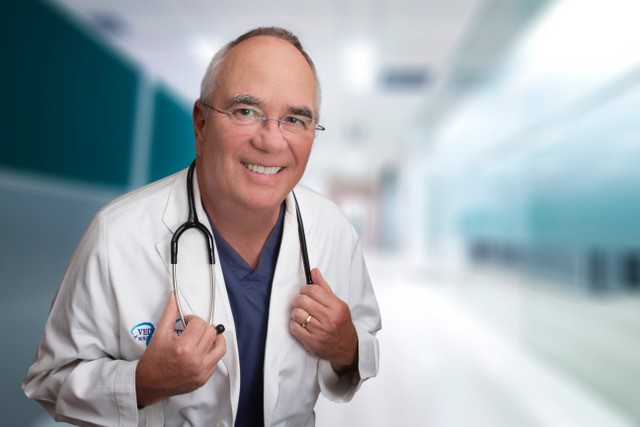 Dr. Fastabend earned his medical degree from the Medical College of Virginia, where he also completed his residency in Internal Medicine and Cardiology. He is board-certified in Internal Medicine and Cardiovascular Disease and is a diplomate of the American Board of Venous and Lymphatic Medicine and has the Registered Physician in Vascular Interpretation certification. He is a Fellow of the American College of Cardiology and Society of Cardiovascular Angiography and Intervention. He is active in the American Vein and Lymphatic Society, serving on the Health Advocacy Committee, and is a member of the American Venous Forum. Dr. Fastabend founded the Vein Center of Southwest Louisiana in 2011 and has developed a comprehensive vein practice with a special interest in deep venous disease. He is involved in research as well as educating physicians in vein disease and is a frequent speaker at major venous symposia.
1. How and why did you start practicing in the field of vein care?
Personally, I was dismayed by the large number of my cardiology patients who were suffering from untreated CVI, often in conjunction with other co-morbidities, and I started searching for more information. After researching modern vein treatments, I started with superficial vein ablation and rapidly progressed from there to build a full-service vein center. I was committed at an early stage to providing comprehensive care for the many different types of vein patients. This means I had to educate myself since my educational background was devoid of venous training. The learning process for me was a joy all by itself, as I delved into this growing field and became passionate about caring for these patients. I have really enjoyed my time in the vein world, and my passion ultimately led me to devote myself exclusively to vein disease several years ago.
2. When you are not at work, how do you spend your time?
I love playing tennis and have for many years, but the toll on my knees has mostly kept me off the courts recently. I have two married children. My daughter is having our first grandchild this fall, and my son and I are avid waterfowl hunters. My wife and I love to travel, and we very much enjoy Italy- maybe we will get back to Tuscany after this awful pandemic subsides. Also, I enjoy following college football and basketball, especially my beloved Virginia Tech Hokies.
3. How long have you been a member of the AVLS and why did you decide to join?
I joined the AVLS in 2012. Joining the AVLS looked like a good way to further my education in vein disease, and the Society has been a great resource for that purpose. It also led me to pursue the RPVI and to become a diplomate of the ABVLM. Now I hope to give back to the organization which has been so helpful to me.
4. In what ways has the AVLS helped you as a practicing physician?
There are so many. I have used the many educational resources to prepare for the board exam and to learn best practices. The annual symposium is a must because there is an abundance of information re taking care of vein patients and the business side of things. The most important for me, though, is the camaraderie with docs who share my passion. The friendships and relationships I enjoy thanks to the AVLS are special and give me happiness and validation.
5. Any advice for physicians new to the field?
Unless a new practitioner had exposure to venous education in his or her training program, that person is entering a field with a body of knowledge, science, and experience with which he or she is unfamiliar. Recognize that fact and approach with respect and humility to learn all you can from those who came before. Attend vein meetings, read, join the AVLS and AVF, become an expert in ultrasound, get boarded by the ABVLM and remember who you serve- your patients. It is amazing how the masters in the field will welcome you if you approach in this manner, and you will develop wonderful relationships. If you have a fully developed practice in an unrelated field such as cardiology like I did, please realize you must give something up in what you are currently doing to give proper service to your new endeavor.
6. What resources does the AVLS provide that would benefit them?
There are so many educational opportunities: web-based courses, the Annual Symposium, etc. Also, I encourage everyone to get involved with committees of the AVLS, because that's where the action is and where many great friendships are formed.