Featured Member of the Month (Mar. 2021): Diana L. Neuhardt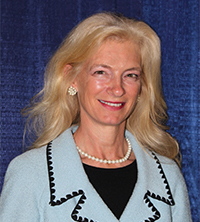 Diana L. Neuhardt, RPhS, RVT, FSVU, is the Director of Ultrasound Services for Comprehensive Integrated Care Centers, facilities specializing in venous, arterial, and other interventions based in Arizona, Utah, Nevada, and Oregon. Ms. Neuhardt attended the University of Washington (pre-med) and the University of Phoenix (business) and is credentialed in sub-specialty phlebology and vascular ultrasound.
Ms. Neuhardt served as the only non-physician board member from 2009-2019 for the American Vein & Lymphatic Society (formerly ACP). Ms. Neuhardt volunteered extensively for the Society on numerous committees and served as a representative for the AVLS at the inception of the Vein Center Accreditation for the Intersocietal Accreditation Commission (IAC). In addition, she has served as Chair of the Ultrasound Section, Chair of Public Education, and Chair of the Leadership Development Committee. She co-chaired the AVLS Annual Congress in 2012.
Ms. Neuhardt is also an active volunteer for the Foundation for Venous & Lymphatic Disease (FVLD) - previously the American College of Phlebology Foundation (ACPF) - and has co-chaired the annual Fun Run & Walk held in conjunction with the AVLS Annual Congress for five years. Ms. Neuhardt has also volunteered on behalf of the FVLD in fundraising committees, including the Silent Auction and member donor solicitation. Other professional memberships include the Society for Vascular Ultrasound (SVU), for which she volunteered as the societal representative for the IAC in vascular testing and Vein Center Accreditation.
Ms. Neuhardt is on the Board of Trustees for Cardiovascular Credentialing International (CCI) as Chair of the Registered Phlebology Sonography Examination (RPhS).
Ms. Neuhardt is co-editor (Mark Forrestal) of the third edition of the Fundamentals of Phlebology: Venous Disease for Clinicians and co-authored a patient handbook on phlebology for the AVLS public education committee. Additionally, she has contributed multiple chapters for reference textbooks on phlebology and vascular ultrasound and has authored numerous scientific articles in peer-review and ultrasound journals. In 2009, Ms. Neuhardt received the Platinum Abstract and Poster Scientific award (co-author) at the AVLS Annual Congress. Ms. Neuhardt was awarded distinguished fellow status in 2015 by the Society of Vascular Ultrasound.
Ms. Neuhardt is an advocate for patients with venous disease and has worked as a medical volunteer internationally for over 15 years.
How and why did you start practicing in the field of vein care?
I remember the moment when I received a call from a local doctor in Arizona sometime around the year 1995. He explained his intention to shift his general surgical practice and exclusively treat venous disease, which caught my attention. I had a personal history of an unexplained lower extremity DVT while in college and thus I was always very interested in anything related to venous disease. At the time of that call, I owned a dedicated sub-specialty diagnostic ultrasound company and was ready to focus on a specialty that I was devoted to. After I met this physician and his wife, I became enamored with the possibilities of where this could lead. A short time later, we collaborated on providing ultrasound for venous diagnosis, "ultrasound-guided" therapies including sclerotherapy, then RFA, then EVLA, and so on. We became interested in research and designed studies so we could share our knowledge and outcomes. We presented our data at the scientific sessions and published our research. That physician and his wife, Doctor Nick & Terri Morrison, went on to become "vein giants." Together we all helped to steer a future of advancing vein care in our respective practices.
When you are not at work, how do you spend your time?
I live for my beautiful grandchildren, children, and my family when they call! I volunteer when I am needed. Mostly I am devoted to my friends, hiking, biking, gardening, and trying to discover the absolute best Chardonnay that exists. It's busy!
How long have you been a member of the AVLS and why did you decide to join?
It's been a while! I think it was the year 2000. I attended an ACP (now AVLS) meeting for the first time. Back then it was a smaller meeting with big ideas to grow the field. Instantly, while at that meeting, I knew I belonged there mostly because I was surrounded with others who shared common goals. I felt so welcome and needed! The ACP (AVLS) staff, leadership, members and industry were all so open and hungry for knowledge and anxious to expand the field of venous disease. I felt I was joining a family I belonged to! I never looked back and immersed myself as a volunteer on just about every committee. It was an exciting time in my life, and I wanted to contribute in any way I could. I loved those times.
In what ways has the AVLS helped you as an allied health professional?
It defined my professionalism! My thanks to so many AVLS (ACP) leadership who personally encouraged, befriended, and nurtured me. These leaders were an inspiration to me including (I am forever grateful I must name them but forgive me if I cannot name them all – very extensive) Doctors Helane Fronek, Steve Zimmet, John Bergan, Robert Min, Mel Rosenblatt, Nick Morrison, Mark Meissner, Joe Caprini, Mark Forrestal, Neil Khilnani, Lowell Kabnick, Marlin Schul, and others in leadership. I must thank Bruce Sanders and John Mangold who helped the AVLS to think big and helped to steer our society to where we are today. I am thankful to the AVLS because it provided me an amazing opportunity to be a personal advocate to help advance the field of venous ultrasound. The AVLS leadership welcomed and paved the way for me to become the first non-physician to ever serve on the Board of Directors of the AVLS. During my 10 years on the BOD, we fostered other achievements. The AVLS endorsed CCI (Cardiovascular Credentialing International) to develop an ultrasound credential for venous disease diagnosis and treatment, the Registered Phlebology Sonographer (RPhS). The AVLS and IAC (Intersocietal Accreditation Commission) along with other societies created and established the accreditation for vein centers! The AVLS leadership recognized the importance of sonography and we adopted a mutual agreement with the SVU (Society of Vascular Ultrasound). All these breakthroughs and other accomplishments combined contributed to the advancement of all venous professionals of the AVLS by working together as physicians and non-physicians! Last year I transitioned to the Board of Directors for our Foundation (FVLD) for which I remain committed to enhancing our fundraising efforts to advance the vision of the Society.
Any advice for providers new to the field?
GET INVOLVED! Attend every meeting of the AVLS whenever you can. By doing so, you will gain not only knowledge and insight, but also create forever friendships with colleagues. Together we WILL further the goal of advancing the care patients with venous and lymphatic disease. Finally, it is so important we financially support the Foundation for Venous & Lymphatic Disease. This is your chance to be a voice and decide where and how we grow the specialty. Give generously.
What resources does the AVLS provide that would benefit them?
A family of vein care specialists.