Featured Staff of the Month (Feb. 2021): Michael Thompson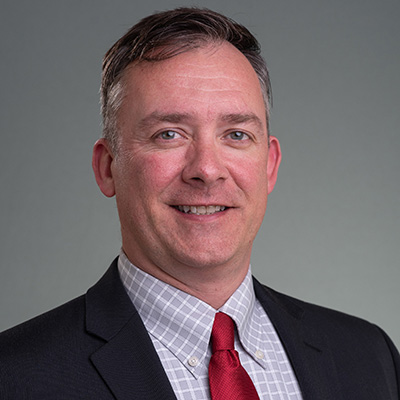 Michael Thompson, Director of Research, has been working with the AVLS since November 2018. Michael has been working for healthcare non-profit organizations since 1992, in roles ranging from Membership Manager to Executive Director. He lives in the far northwestern suburbs of Chicago with his wife, Jill, and seven children. In his spare time, Michael enjoys fishing, riding his motorcycle, and spending time with his family.
What led you to choose this career?
Sometimes we choose our career and sometimes our career chooses us. For me, it was the latter. My bachelor's degree is in Speech Communication. I fully intended on getting a job with a public relations firm in Chicago but it never panned out. Instead, my first job out of school was with the American College of Pathologists where I worked in their laboratory improvement program department.
I learned a great deal about the field and about working for professional associations. I went on to work for other groups such as the American Academy of Pediatrics, the Chicago Medical Society, the American Venous Forum, and finally here with the American Vein & Lymphatic Society. I enjoy working with my colleagues as well as with the dedicated volunteer members of the AVLS.
What is the most satisfying thing you get out of your role at AVLS?
I'm surrounded by so many incredibly smart people here at the AVLS! In my role as the Director of Research, I'm working with a talented team of physicians, IT professionals, and staff as we build one of the most robust registries focused on superficial and deep vein disease. I continue to learn something new every day. It is very satisfying to be able to overcome challenges and knowing that our work will result in research that will help to deliver best-in-care practices for patients.
Is there anything you're currently trying to make a habit of at work or at home?
For years, I developed a bad habit of reaching for my phone first thing in the morning. I would check my email, texts, and feeds before my feet even hit the floor. In an effort to become more mindful and present, I am resisting that temptation and instead focusing on starting my day reading a Bible passage or daily devotional.
What is your favorite movie, band, or song?
My favorite band is Van Halen. I have seen them live in concert with both David Lee Roth and Sammy Hagar six times. Rest in peace, Eddie!
If you could trade places with anyone for a day, who would you choose?
Assuming that this 24-hour swap would give me his talents (and access to his bank account), I would choose Michael Jordan. I would play some pickup games of basketball, play a couple of rounds of golf, and end the day buying a new Lamborghini with cash.